The latest news and events from the campuses and Alumni community

Keep up to date with all the latest news, events and reunions both at the University and across the Alumni Association.
---
---
(18 October 2022)
A group of filmmakers led by a local freelancer, Zakir Hossain, the University of Bedfordshire's MA Media Production graduate (see picture), are aiming to highlight the issue of homelessness in Luton through a new documentary. According to a study published at the end of 2021 by charity Shelter; 1 in 66 people are classed as homeless in the city.
And this number has likely risen substantially since that study due to the rising cost of living. Homelessness in Luton is such a major issue that the city actually has the highest rate in the country outside of London.
Zakir Hossain is aiming to create a documentary to highlight homelessness in 'order to forge social transformation'. Mr Hossain, originally from Bangladesh, hopes his filmmaking club can become a UK-wide group, allowing people to express their talents and passions and bring about real social change.
To read the full article, please visit Bedfordshire Live
---
(28 September 2022)
Author and adolescent psychologist Angela Karanja officially launched her new book in Hackney in September 2022, which investigates the impact of modern slavery.
Smuggled follows the story of Tuliana, a young woman transported from a village in Kenya to be illegally adopted by a family in the UK, and the teenagers who notice something isn't right and sound the alarm.
Karanja, the University of Bedfordshire graduate, discussed the book at the launch event, organised by AFRUCA, a charity that works in Black and ethnic minority communities to protect and safeguard children from abuse, modern slavery and exploitation.
"The issues in the book are so prevalent and it's important we talk about them," she said.
The book looks at how modern slavery can happen right under people's noses, with victims often not being aware that they are victims and onlookers not seeing the full extent of the power dynamics at play.
To read the full article, please visit the Hackney Citizen
---
(18th July, 2022)
A BAFTA-nominated University of Bedfordshire alumnus has released a new children's book that focuses on a mixed-race retelling of Bible stories.
Gemma Hunt graduated with a degree in BA (Hons) Media Performance back in 2003 and has since gone on to carve out a successful career on screen, presenting TV shows including CBeebies favourite, Swashbuckle.
Gemma's book – her first authored children's work – is entitled 'A Good Friend' and is a diverse, modern day reimagining of the stories of Jesus, featuring a mixed-race family as the main characters.
She was inspired to produce the stories after being unable to find any children's books which featured a mixed-race family like her own, and so decided to write the book for her daughter – who has a mixed-race mother, a white father, a Black grandmother and a white grandfather – so that she could see a family like her own reflected in the books she read.
As a Christian, Gemma aims for her book to promote a diverse image of Jesus – one that makes mixed-race children and children of colour feel part of the conversation around religion.
Gemma said: "We couldn't find any children's books which represented a family like ours. While there is more diversity in kids' stories these days, there was nothing which truly reflected my own child's experience of home life. I wrote these stories because it is so important for children to see themselves represented in the literature and media they consume – I want my daughter to look at this book and feel like she's looking in a mirror."
Published by SPCK Publishing, 'A Good Friend' is available to purchase from high street book retailers and online.
---
(13 July, 2022)
In early June 2022, the Romantic Novelists' Association (RNA) named Jennifer Bibby, the University of Bedfordshire's Alumni, as one of nice contenders for a respected romance novel award, for a long-anticipated book which has taken her 17 years to complete.
The RNA held their annual conference on Saturday 16th July 2022 at Harper Adams University in Shropshire, where there was a ceremony to announce the winner of the annual Joan Hessayon Award for 2022 – an award for published authors whose debut novels have gone through the RNA's New Writers' Scheme.
Jennifer Bibby - who now works in the University's Academic Registry team – previously studied Creative Writing at the Luton campus. During her studies, she came up with the idea to write a fictional romance novel, originally set during the Italian Renaissance, however a trip to Cornwall in 2014 inspired Jennifer to shift the location from medieval southern Europe to modern-day England. It was then that the The Cornish Hideaway came to fruition.
Jennifer said: "A trip to St Ives in 2014 inspired me to set my story in a tiny Cornish village – mostly because Cornwall is beautiful and feels like it's at the end of the world, so the perfect destination for anyone wanting to escape their past, which all my characters are doing in one way or another."
In 2019, Jennifer took huge strides to advancing her story that had been in the works for 15 years. She added: "I committed to writing the book. I signed up for a rom-com writing course in London for six weeks and joined the Romantic Novelists' Association's New Writers Scheme. I sent the book for feedback, which was very positive and made me believe that it could be published – which it then was!"
American publishing house Simon & Schuster acquired The Cornish Hideaway in February 2021 and in March 2022 it was published as an e-book. The book is also set to be published as a paperback in March 2023.
---
(20th June 2022)
University of Bedfordshire alumni Melvin Odoom and Rickie Haywood-Williams returned to their old stomping ground to broadcast their Radio 1 show live from the Luton campus.
The pair – who met while hosting student radio shows together at the University – brought along co-host Charlie Hedges for a fun-filled week of games, dares and non-stop chat!
Discussing their return to where it all began, Melvin said: "I had the best time at the University – it was my first taste of freedom from my mum's house! As soon as I came back to the town, I just started smiling straight away. It's so great to see all our old lecturers who are so proud of us being back on campus."
Rickie added: "To be back at my old university as a Radio 1 presenter feels really nice – it's a great moment. I remember being here as a student and never in my wildest dreams would I have thought that years down the line I'd be back as a Radio 1 presenter!"
During their first show from the University of Bedfordshire, the trio unearthed some clips of Melvin and Rickie's days broadcasting on the University's student radio station Luton FM – now known as Radio LaB.
They then returned to where they got their first taste of radio, later in the week, with a visit to the Radio LaB studios. While there, they spoke with current students and even appeared on the live broadcast, talking to the station's student managers, Toby and Nathan. Listen to the show
---
(8th February 2022)
University of Bedfordshire graduate and para-dressage international champion, Mari Durward-Akhurst, has been named as an Ambassador of the British Inspiration Trust (BRIT) and is supporting the annual BRIT Challenge this year.
The BRIT Challenge raises money to support and improve young adults' mental health, fitness and wellbeing. This year, participant teams will collectively aim to cover 2022 miles between now and University Mental Health Day on the 3rd March, by wheelchair-pushing, walking, hand-cycling, running, rowing and by any other physical means.
Each year, the BRIT Challenge is supported by successful and high-profile Ambassadors. Paralympian dressage rider Mari – a two-time international and five-time national champion who studied with the University's School of Sports Science & Physical Activity (SSPA) – graduated from the University in 2015. She is supporting and encouraging students and staff from the University of Bedfordshire, the Bedford College Group and Central Bedfordshire College to take on the challenge.
Mari – who has cerebral palsy, ataxia and dystonia – achieved a degree in Sports Therapy and had initially planned to set up her own business but instead became a full time athlete. Mari says that horse riding has helped with her physical and mental health which have both been impacted by her condition. She hopes her experience and success will help inspire others to take on the BRIT Challenge and raise money for an important cause.
In an interview on the BRIT Challenge website, Mari commented: "Having lived with a life changing condition, been bullied at school because of my disability, and as a former student, I know that many young adults suffer with mental health challenges. I am thrilled to be joining the BRIT Ambassador family to support and improve young adult mental health throughout the UK.
"The Covid-19 pandemic has had an impact on the lives of many young people; especially those who are vulnerable, living with disabilities and who have limited mobility. Mental health services are under increasing pressure and it's vital that students receive support for their mental health and wellbeing now, so that they do not endure long-term mental health effects that will affect their health, studies and future employment.
"The British Inspiration Trust's annual BRIT Challenge is an exciting UK-wide opportunity for students and young adults of all abilities to unite as university and college teams – at home or on campus – and take part in a feel-good February fundraiser. I look forward to encouraging and supporting students and staff as they take on the BRIT Challenge."
Funds raised through the challenge go towards BRIT's work, as well as local and national charities. Over the past two years, approximately 180 university and college teams have taken part in the challenge. For more information or to register, see BRIT challenge - how to take part
---
(14th February 2022)
An alumni who was nominated for her contribution to the School of Nursing, Midwifery and Health Education at the University of Bedfordshire has been commended by local press and her former lecturer after accepting a prize from Bedfordshire Freemasons at an in-person ceremony.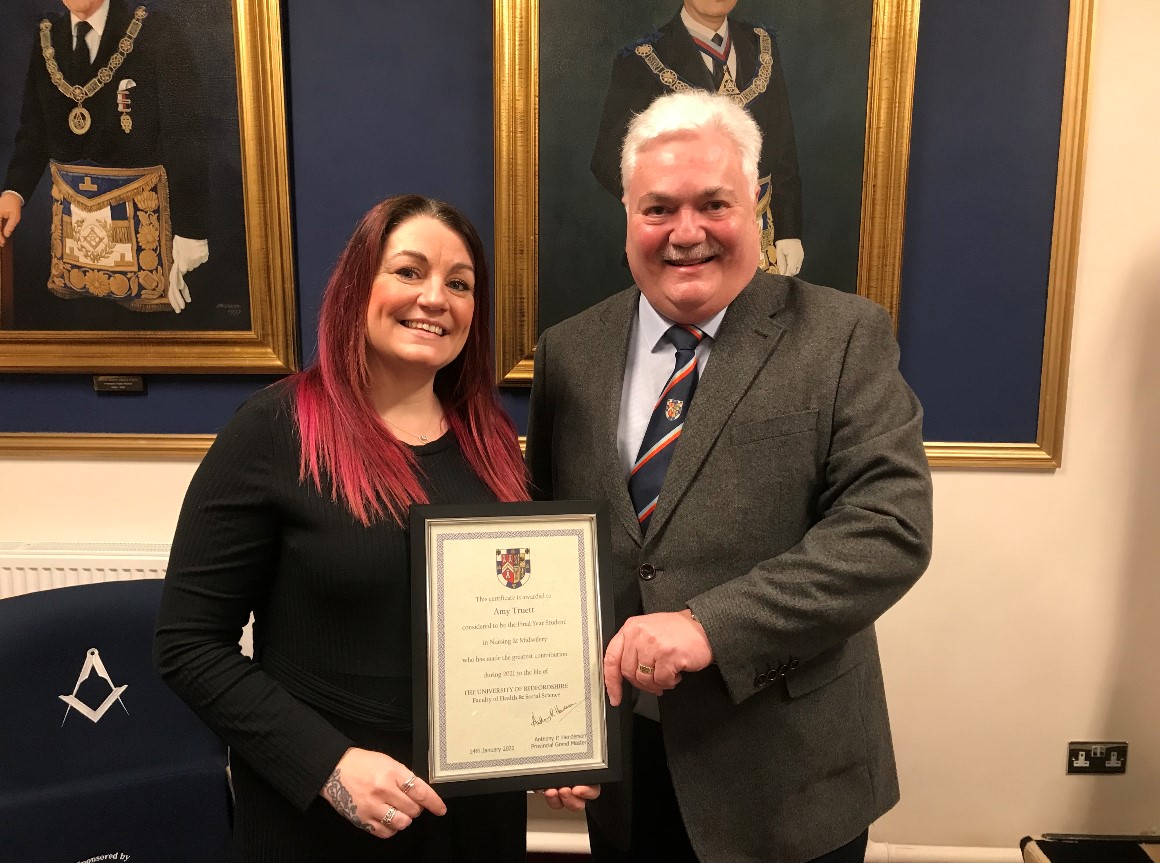 The local Freemasons organisation gives the Martin Foss Award – named after a former surgeon and Provincial Grand Master for Bedfordshire – annually to a student nurse or midwife who has made the greatest contribution to their School
This year's award and £500 prize was handed to first-class honours graduate Amy Truett, a mother of four who worked at Sue Ryder St John's Hospice throughout the three-year course. Now working at Penrose Court nursing home in Biggleswade, Amy has appeared in the local newspaper for her achievements.
Following its publication, Amy said: "I'm feeling a little bit famous this past month!
"I was so excited to receive the award, particularly at an in-person graduation. The whole morning was an absolute rush of emotions and most definitely one of the moments in my life I will not forget in a hurry."
Amy told Biggleswade Today about her journey into nursing: "I started my career as a part-time carer, later moving to full-time roles at Hinchingbrooke and Biggleswade hospitals, with breaks to look after my children. The passion inside me to look after others just kept growing and after the sudden loss of my father in law, who I cared for on a daily basis, I said to my husband that I really wanted to become a nurse. I can honestly say the satisfaction I get every day from looking after others, showing empathy and empowering my residents and other staff members is everything I studied for."
Speaking to the University about her time at Bedfordshire, Amy continued: "I completed the majority of my studying and placements throughout the pandemic, which was a tough and scary time. However, the support I received from my family, lecturers and placement staff was extremely encouraging and kept me pushing through.
"Being able study so close to home, at the Bedford Campus, also made it possible. The course timings and days worked well with my parenting life and my part-time job at the time.
"Being a mature student, I thought I'd be the one in the corner on my own, but I wasn't. My cohort was amazing, welcoming and extremely encouraging. We were all different ages and just helped each other, whether it be in-person or via online group chats."
Amy's experience at the University has changed the course of her life, and she would encourage anyone interested in nursing to follow in her footsteps. She said:
"I started my nursing journey at 34 and graduated at 37 with family of four children and a job. I went through many ups and downs and there were a few times I felt like giving up. But the support I had from my husband, children and the University was extremely empowering – I'd encourage anyone to follow their dreams and just go for it!
Katherine Hopkinson (pictured with Amy), Senior Lecturer in Adult Nursing, nominated Amy for the award and is very proud to see how Amy's potential has progressed. She commented:
"I'm absolutely delighted for Amy. When we discussed candidates for awards at the exam board, Amy was a natural choice – she always presented herself as a supportive peer to her cohort, always got excellent feedback from her placements and her high level of clinical ability was demonstrated by taking a post in A&E upon qualifying. The fact she has moved on to work in a care home is again indicative of her nature."
Amy was named as the recipient of the award at her graduation ceremony and was recently presented with a certificate (pictured) by current Provincial Grand Master Tony Henderson, in front of a portrait of Martin Foss (right).
---
On December 20, 2019, Asif Sahid was pleasantly surprised when the CEO of his company stepped on stage to recognise the Managers who has significantly contributed to the growth of the company in 2019. It was the first time in the 25 years history of the company that the management team had been recognised and he was the first of three staff to be announced.
In his speech, the CEO stated that Asif had taken on the additional responsibility of developing the company's portfolio within the emerging Oil and Gas sector in Guyana. He was tasked with developing strong business relationships with some of the world's largest oil and gas companies like ExxonMobil, Halliburton, Schlumberger, SBM, Saipem etc. and the results had been remarkable. Today the company is well-positioned to serve these companies and expand further. Asif undertook this task in addition to maintaining his current role as Parts Operations, Logistics and Commercial Manager for which all KPIs were achieved, and his department won a Golden Award from Caterpillar for Performance Excellence.
Asif has stated that much of this success has come as a result of his MBA studies with the University of Bedfordshire. He commented "The well-structured course helped me to develop my leadership skills by practising tools such as the KEYS survey, Porter's Five Forces among others. The MBA program opened my mind to new ideas, developed my habit for reading & research and has inspired my team to further develop. I am forever grateful for the opportunities that the MBA program continues to open for me"
---
A Bedfordshire alumni has been selected as a finalist for the Spirit of Youth Alumni Award by the British Council team in China.
Miss Shan Chen was shortlisted for her work in developing a Contact Improvisation dance community in Chengdu. The dance activities targeted people from all ages and backgrounds, encouraging Chinese non-dancers to explore improvised movements as part of their daily life and connecting with society artistically.
Applications from the UK's most outstanding alumni have been received from alumni in a record 127 countries, for the fourth year of a prestigious award celebrating the achievements of the UK's international alumni around the world. For the first time, the Study UK Alumni Awards are open to all alumni living outside of the UK, finding and celebrating many more success stories of the UK's alumni.
Award winners and finalists are leaders in their fields who have used their experience of studying at a UK university to make a positive contribution to their communities, professions and countries. The Alumni Awards celebrate and showcase the impact and value of a UK higher education and raises the profile and reputation of UK alumni, their former universities, and the whole of UK education.
"We are incredibly proud that Ms Chen has been shortlisted as a finalist and wish her every success for the Award event and all of her future endeavours", Charmaine Brady, Alumni Relations Manager.