Rainwater harvesting - an integral part of all new campus buildings
Don't be worried if when you're 'using the facilities' in our new campus buildings, the water in the toilet has a slight green tinge.
The Gateway building at Bedford campus as well as the Postgraduate and CPD Centre and the new library at Luton campus have green sedum roofs to harvest rainwater and increase the biodiversity of the surrounding areas.
Sedum is a type of vegetation with water-storing leaves. Rainwater is collected from the sedum roofs and used for flushing the toilets in the buildings.
The slow release of water through the sedum is also a vital protection against flooding.
On the sedum roofs there are rock piles to attract insects which in turn attract birds.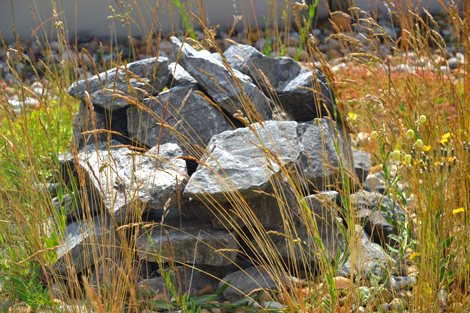 telephone
University switchboard
During office hours
(Monday-Friday 08:30-17:00)
+44 (0)1234 400 400
Outside office hours
(Campus Watch)
+44 (0)1582 74 39 89