Stars of screen and radio join Bedfordshire students during graduation
The celebrations continued at the University of Bedfordshire when students from the Faculty of Creative Arts, Technologies and Science graduated from the Putteridge Bury campus this week.
Hundreds of excited students shook hands with the Vice Chancellor Bill Rammell and collected their degrees, with proud family and friends looking on.
A number of honorary awards were also presented to special guests.
CBBC presenter and Bedfordshire graduate Gemma Hunt received her honorary award for her services to media. She said: "This is truly an honour. This University has been the most amazing springboard into my career. It's good, right and proper that you all celebrate your achievements and be proud of yourselves."
She was joined by fellow Bedfordshire graduates Rickie Haywood Williams and Melvin Odoom, who have enjoyed successful careers as radio DJS and TV presenters, having met at the University while they were studying Media Performance and Radio.
Rickie told the graduates: "We would never have met without the University – we have a lot of love for this institution.
"I remember sitting where you are now and about to do the same things as you and I was really excited about things to come. I hope you are too, the world is at your feet."
Melvin shared the secret of the duo's success: "We didn't give up and we never listened to the word 'no'. So keep going and don't give up!"
Also receiving an honorary award for his outstanding contribution to the music industry and entrepreneurship was Jamal Edwards MBE, the founder of YouTube channel SBTV, which now boasts 717,000 subscribers and over 400 million views.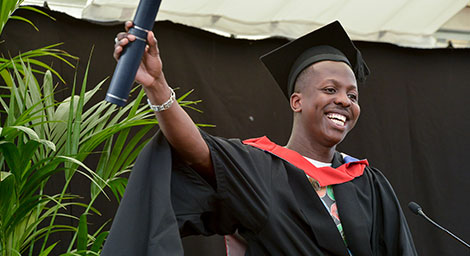 Jamal said: "I was born in Luton and I have never forgotten where I came from. You lot have all smashed it – well done."
Among the students graduating was Abou Binneh Kamera, a magistrate from Sierra Leone who just completed his PhD looking at how the media reports war crimes trials and civil society responses in post-conflict Sierra Leone. He had travelled all the way from Freetown to mark the occasion.
"It was very challenging to complete my PhD. Internet connectivity and electricity is not always reliable in Sierra Leone and I had to deal with a lot of stress. I also lost nine members of my family to the Ebola outbreak", said Binneh.
"But I was determined to finish and I am thankful to all my tutors for their support over the past four years."
The University's Vice Chancellor told the graduates: "You are a credit to your tutors, a credit to your family and friends, and most importantly, you are a credit to yourselves. Well done to all of you."
telephone
University switchboard
During office hours
(Monday-Friday 08:30-17:00)
+44 (0)1234 400 400
Outside office hours
(Campus Watch)
+44 (0)1582 74 39 89