John Grisby
Professor in Management Practice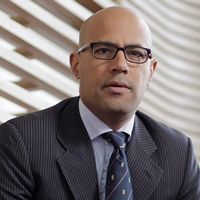 My expertise in leadership is a direct result of 25 years' experience in human performance and development. Multi-disciplined background/roles include competitive sport, organisational and leadership performance consultancy, public sector, entrepreneurship, and academia. I have worked and lived around the world in Europe, USA, Africa, South America and the Middle East, and I am trilingual (English, Spanish and Italian). I joined the University of Bedfordshire in 2005.
I divide my time between academia and private sector consultancy, with an interest in practical application of best in class methodology and first principle scientific approaches to help leaders achieve results. Both are evidence-based with decades of application and results in the real world complexity (geopolitical, business and sport). I am the Managing Partner of Grey Matter Global Ltd.
I speak/facilitate, publish articles and produce 'Thinking' (podcast series, interviews, blogs and videos), which is a mix of executive education, leadership development, consultancy, coaching and facilitation.
Other References
Qualifications
Bachelor of Arts in Business Communications – University of Colorado, Boulder (USA)
Master of Arts in Global Marketing, Communications and Advertising - Emerson College, Maastricht, The Netherlands/Boston, USA
Certification and Senior Practitioner Level Accreditation in Executive Coaching in Performance - The School of Coaching, University of Strathclyde and EMCC (European Mentoring and Coaching Council)
Post Grad Certification and Accreditation in Business Coaching - Chief's Executive Office and Chester University
Fellow HEA - University of Bedfordshire Business School
Teaching Expertise
Faculty at The School of Coaching (London)
Faculty of European University (Barcelona, Spain)
External Roles
Managing Partner of Grey Matter Global
Publications
Publications 2018
Sport Industry (Book), Games You Can Play - Experience the Meaning of Winning – Next-generation sport-leadership strategy for solving problems and achieving results (Spring 2018)
Private Equity Sector (Short Guide), The Big Squeeze (for EBITDA)- How to Juice the Market, Save Pears and Deal with Lemons (Autumn 2018)
Other:
Credit Strategy M&A, Leadership for the Changing Times – Leadership in Corporate Finance M&A (2017)
Chartered Management Institute Insights (CMI), Six Different Mindsets of Leadership – Find Out How Situation Helps Mode Leadership Style and How Being Adaptable Can The Key Survival (2016)
Global Professional Tennis Coach Association (GPTCA), Sport Coaching for the Changing Times – How Different Eras Produce Coaches, Managers and Players with Different Mindsets (2016)
Catering Scotland Hospitality Yearbook, Peer Groups: It's Time for Next Generation Networking' (2015)
International Journal of Sports Science and Coaching (IJSC), Winning Formula, Man Management and the Inner Game: - Commonalities of Success in the Ryder Cup and Super Bowl (2015).
England Rugby Football Union Technical Coaching Journal (RFU), The Meaning of Winning (2008)
London Football Coaches' Association Soccer Coach Magazine, Exploring Effecting Football Coaching and Management (2007)
Start Your Business Magazine, Energy, Productivity and Performance: It's All Your Inner Game (2008)
Contact Details
T: +44 (0)1234 400400
E: john.grisby@beds.ac.uk